GBot for Guns of Glory - "Throne of Thorns"
GBot - The Best Guns of Glory Bot in 2023
Our advanced Guns of Glory bot automates over 50 tasks! It's the perfect Guns of Glory bot for farming lots of accounts easily. It supports multiple emulators, account switching (Fun+ and Google), emulator rotation, intelligent task management, has comprehensive statistics and much more. Very easy to setup and it's the cheapest Guns of Glory bot on the market. So what are you waiting for?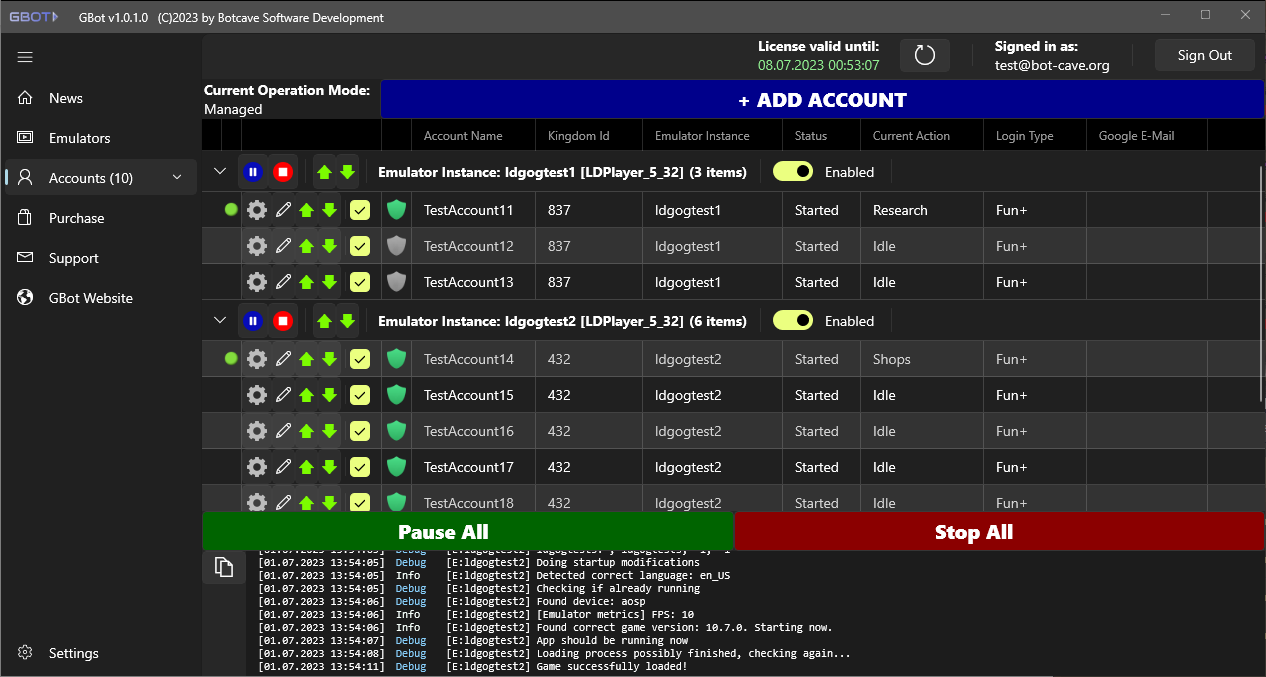 ---
👉 Download and try for free! 👈
---
Automated actions/tasks
⭐ Alliance - Load Gunpowder
⭐ Alliance Celebration Chests
⭐ Alliance Donations
⭐ Alliance Gift
⭐ Alliance Member Help
⭐ Astrologer
⭐ Attack Threats
⭐ Bank
⭐ Catacombs - Explore
⭐ Catacombs - Plunder
⭐ Collect Gems
⭐ Collect Resources
⭐ Count Resources
⭐ Daily & Main Quests
⭐ Daily Shipment
⭐ Doctors Gift
⭐ Estate Affairs
⭐ Furry Friends
⭐ Gather Resources - Alliance
⭐ Gather Resources - Kingdom
⭐ Guard Treasure Hunt
⭐ Guards Management
⭐ Guards Recruit
⭐ Gunpowder Legends
⭐ Hall Of Champions
⭐ Honor Challenge
⭐ Hospital
⭐ Inventory Item Usage
⭐ Lord Achievements
⭐ Lucky Item Hunt
⭐ Mail
⭐ Mermaid
⭐ Mermaid - Treasure Diving
⭐ Munitions Exchange
⭐ Musketeer's Fort
⭐ Mystic Jackpot
⭐ Pirate Showdown
⭐ Rally Management
⭐ Research
⭐ Return Of The King
⭐ Road To Victory
⭐ Royal Expeditions
⭐ Sanctuary
⭐ Shielding
⭐ Shops
⭐ Spirit Mines Exploring
⭐ Tribute Gift
⭐ Troops Training
⭐ Underworld Keys Donation
⭐ Upgrade Castle
⭐ VIP Rewards
⭐ Wall defense repair
⭐ War Aid Center
Some key features
Simple Setup
Automatically downloads and updates the game

Automatically configures and updates emulator instances for best botting experience

Easily add new game accounts and assign emulator instances

Account switching and emulator instance rotation work out of the box with no to minimal setup
Intelligent botting
Bot automatically manages starting of emulator instances and switching between accounts in the same instances

Keeps timers for each task, account and emulator instance to be able to:

... always continue where it left off
... to execute/repeat tasks only when necessary
... to execute each account/instance equally often

Auto restart app after game reset (0.00 UTC)
Comprehensive Account Management
Support for Fun+ and Google account switching

Can add multiple accounts with different login methods to the same emulator instances

Add as much emulator instances and accounts per instance as you wish, the bot will automatically start as much instances as specified and switches accounts when necessary

Automatically arrange botting of instances and accounts based on priority list and timers

(Temporarily) switch off accounts or even whole instances

Overview of currently active instances, accounts and tasks, shielding status, etc.

Pause/Resume all or selected instances or accounts
Advanced features
When shielding is activated, the bot will regularly check all accounts in an instance if reshielding is necessary

Advanced rally creation and joining if accounts are in the same kingdom and alliance: If one account created a rally, the other account(s) will automatically interrupt botting, instantly join the rally and finally pick up the task again where they left off

Support for all Return of the King features

Tap randomization

Advanced emulator error detection and handling

Resource counting, Statistics, Priority lists, Shielding overview, ...

... and much more
Frequently Asked Questions
Which Emulators are currently supported?
Currently GBot supports Nox Player and all LDPlayer versions except LDPlayer 9.
How many accounts can be managed by the bot?
There is no hard limit on the number of accounts you can bot. The only limits are the resources of your computer. You can specify how many emulator instances may be started parallely. Each emulator instance can have multiple game accounts. The bot will automatically switch to the next account if one is finished. Once an emulator instance is finished it will be terminated and the next instance will be taken from the stack. This way the bot can manage hundreds of accounts. In our tests we were botting 50+ accounts without any issues.
Which login methods are supported?
If you only have one account in an instance the login type doesn't matter. If you have multiple accounts in one instance the bot needs to switch between these accounts. Currently Fun+ and Google are supported for account switching.
How do I register and how do I purchase license time for the bot?
You need to register a new account in the bot. Then you can either log into the bot or the website and purchase license time for the bot.
If I bought license time for one account, on how many computers can I use it?
If you bought license time for an account, you can use it on up to 3 different PCs.
Which requirements must be met for an account to be botted?
Your account must have already completed the tutorial
All essential buildings should be built already
Does the bot do everything on its own or does it sometimes need manual intervention?
The bot cannot click/play through the tutorial
The bot doesn't build new buildings (yet). You must build them manually
There are certain tutorial sequences after a castle level-up which stay even after an app restart. The bot sometimes cannot handle them and a manual intervention may be necessary
The bot currently only upgrades the castle and its dependencies. Other buildings must be upgraded manually for now
For features that are still in work, check the Planned Features section
Can I also start single instances manually or does the bot always do everything on its own?
You can choose between both. When you press the "Start (Managed Mode)" button, the bot will start in Managed Mode and manage everything for you. It will start as much emulator instances as specified in the settings and switch between your game accounts that were added to the specific instance based on timers and priority list. However you can still disable specific instances or accounts. If you start instances manually via the "Play" button the bot works in Manual Mode. You can start as many instances manually as you wish. The bot will still switch between the accounts that you added to the specific instances. Also note, that you can always Pause/Resume single instances or all started instances at once.